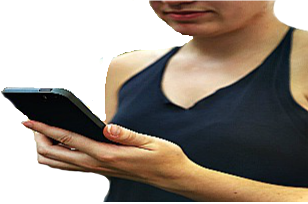 Keeping up with your account has never been easier. You can enjoy secure access to your account information 24/7 with your smartphone or tablet.
View pending transactions
Remote Deposit Capture allows you to deposit checks anytime, anywhere.
What's Required
Members must be enrolled in PTOFCU's Online Teller to use our Mobile Banking app.
Download the Apple or Android app by typing PTOFCU in either application and start enjoying easy access to your account.
Mobile Banking Security Tips
As mobile phone technology advances, it becomes increasingly important for you to protect your account information. Just some security tips include:
Password protect your mobile phone.

Never store user names and passwords on the phone.

Keep the phone with you, and secure it when not in use.

Notify us immediately if your phone is set up for PTOFCU Mobile Banking and your phone is stolen.

Close the browser on your phone when not in use - especially if you have Mobile Banking activated.

Install antivirus software on your phone.

Don't modify the phone as it may disable important security features.

Never open attachments or click links from unfamiliar sources.