Edison Society
A special savings account for members age 50 and over that's guaranteed to make money management easier. Just maintain a balance of $500 or more (excluding checking accounts) and you qualify! Edison Society members enjoy the following benefits for FREE:

Online Teller

Online Bill Pay

Checking

ATM Transactions

Statement Copies

Account Reconciliations (one per quarter)

Account Histories

Money Orders, Traveler's Checks, Cashiers Checks and Wire Transfers

ID Card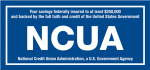 Your savings are federally insured to at least $250,000 and
backed by the full faith and credit of the National Credit Union Association< .