Savings Accounts
Regular Share Accounts
Everyone must have one. Plus, you'll earn dividends!

Share Certificates
For a higher yield on your investments with a variety of terms. Check out our rates!

Money Market
A higher interest bearing savings account.

Holiday Club Savings
A 'painless' way to save for your holiday shopping. Funds are transferred to your regular share savings account October 1. Holiday club accounts can be opened anytime of the year.

Individual Retirement Accounts (IRAs), Traditional and ROTH
Tax-deferred with higher yield for your retirement; separately insured to $500,000 (More Details). Contributions are entered 'pre-tax' tp help build your nest egg.




|

|

Checking Accounts
Check account balances and reorder checks online.

Read about new legislation that effected all checking accounts as of October 28, 2004.



|

ATM Card
Available with any checking account. Enjoy Surcharge-Free Access at 28,000 CO-OP Network ATMs. *Get application and disclosure. This application may be faxed to (571) 273-0190 or mailed to Patent & Trademark Office FCU, Member Services Department, 501 Dulany Street, 1st Floor, Alexandria, VA 22314.

VISA® Check Card
All you need is a PTOFCU checking account. Easier than writing checks and convenient to carry. Use anywhere Visa is accepted. Protect your check card from unlawful use.

*By clicking on the disclosure, you acknowledge receiving it.
Specialty Accounts
Ben's Friends
A special savings account for members 12 and under. This account is a great foundation for establishing healthy financial habits. This account will automatically be converted to a Morgan's Innovator account when the accountholder turns 13. All Ben's Friends members will receive:


Morgan's Innovators
A special savings account

for teens ages 13 to 19.

This account gives our teen members the tools learn how to manage their money; setting them up for financial independence. Options include:
Edison Society
A special savings account

for members age 50 and over

that's guaranteed to make money management easier. Just maintain a balance of $500 or more (excluding checking accounts) and you qualify! Edison Society members enjoy the following benefits for FREE:
Online Teller

Online Bill Pay

Checking

ATM Transactions

Statement Copies

Account Reconciliations (one per quarter)

Account Histories

Money Orders, Traveler's Checks, Cashiers Checks and Wire Transfers

ID Card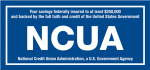 Your savings are federally insured to at least $250,000 and
backed by the full faith and credit of the National Credit Union Association.