Remote Deposit Capture allows you to scan or photograph checks and transmit the images to Patent & Trademark Office FCU for posting and clearing. It saves you a trip to the credit union. Now, you can deposit checks anywhere, anytime. Checks MUST be endorsed for remote deposit "for remote deposit to PTOFCU only." Remote Deposit Capture uses the same level of security and encryption standards as online banking, ensuring that your personal information is safe and secure.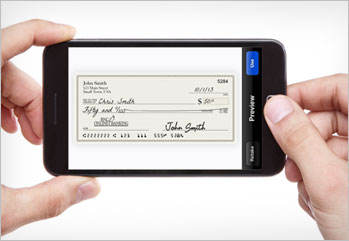 You must have access to Online Teller to use the Mobile Banking app. Once you download the Mobile Banking App, you must contact us to request the Remote Deposit Capture feature.
IMPORTANT NOTICE: The daily remote deposit limit is $5,000. In order for you to receive updates regarding your deposited checks, we must have your current email address on file. Please complete the Change of Address form in Online Teller.
Remote Deposit Capture Screen Shots